Cory Doctorow
: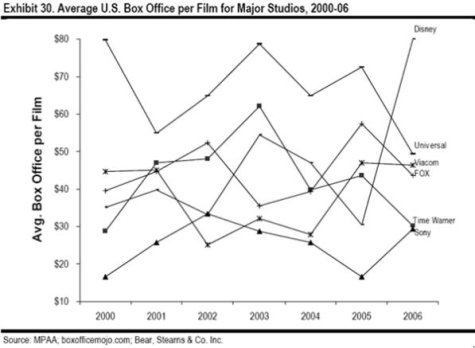 This chart, showing the per film/per year box office for Hollywood movies from 2000-2006, is the biggest laugh I've had all day. We always hear about how entertainment execs earn their giant salaries by being incredibly shrewd selectors and marketers of motion pictures, but this chart shows that you could get the same result by throwing dice.
Link
(
via Wonderland
)
Update: Adam found this great chart, showing box office gross adjusted for inflation -- the field peaked in 1939, with Gone the With the Wind in top place, with an adjusted gross of $450.5 million. The only movie from later than 1990 in the top ten is Titanic.
Update 2: Adam sez, "The figure listed for Gone with the Wind is adjusted to 1977 dollars...when adjusted to 2007, it's the much more impressive $1,329,453,600."